Hello friends!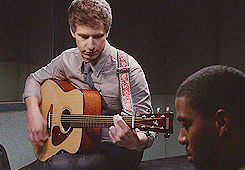 (via giphy.com)
Time for my Learning project post for week eight of my journey. I mentioned last week that my goal was to be able to play "Twinkle Twinkle Little Star", as my boyfriend had mentioned to me that if I had learned to play that I could essentially learn most songs a little easier.
Before  show you my absolutely amazing skills of playing the nursery rhyme we all know and love I quickly want to share my better half's YouTube channel of his covers. he plays all the guitar within and sings as well. I KNOW, I KNOW, shameless plug…. hahah! Here is my favorite cover he has done, and perhaps the reason why I was inspired to learn to play:
There aren't a ton of covers, as he doesn't practice as much anymore, but I'm sure a few comments on his video might inspire him to do so 😉
Alright so, the video I found myself referring to in order to learn how to play "Twinkle Twinkle Little Star" was from the user Quail Studios Guitar. Check out the video I used:
I really enjoyed listening to Hal as he not only seems humble and patient, but he has a kind tone to his voice, which is what honestly attracted me to using this video as my guide. The shorter length of the video makes learning the song a little less intimidating and he has a means to convey his teaching in a clear and concise matter.
I know this post has an abundance of video, but take a peak at my "Twinkle Twinkle Little Star" Cover:
In the tradition of my Learning Project posts, I am going to outline the pluses (something I did well on, am feeling motivated by, or improved upon from last week) and the deltas (areas of opportunities for the next week to come).
Pluses:
my hands are able to grip the neck a little better without any pain
I am able to transition from chord to chord
I have been staying motivated with achieving my goals each week
Deltas:
I am not utilizing much of a strumming motion (perhaps I need more challenging songs to try for this)
I am having trouble with confidence of not looking what I am strumming (I know this will come with time, but I am a perfectionist haha)
Would like to understand the WHY behind how a guitar works and perhaps learn about why some people play
So until the next week, I will leave you with a note and a question: I am noticing I feel more relaxed all around or "mellow" as you will because of my journey in learning to play guitar. Are you finding a sense of calm in your learning journeys?
Thanks,
Alyssa