Time for my Learning Project #6 post! Getting back into the swing of things has been tough since reading week. I was away in Winnipeg for five days training a session for my part time job at Sephora. It took a lot out of me to be travelling on the one week I had to catch up with all my homework for my last semester of my degree, and I must say…. I did not do any catching up whatsoever. In fact, I fell behind more than anything. My  learning project took a hit too so I have been working extra hard this week to get back to the point I wanted to be at by now. I originally said I would try different platforms for learning, however I now know that would only slow me down as I found success with shorter videos last week. So I'm sticking to the path that has been working for me. My fave videos are from Yousician on YouTube.
My goal for this week was based on my own schedule I had created at the beginning of this project was to be able to play a small portion of an easier song to learn by now. I am happy to say I did it! I posted my latest video to my YouTube channel of my playing it and am super stoked I did it with little hesitation. Here it is:
Not too bad, hey? I basically feel like this now: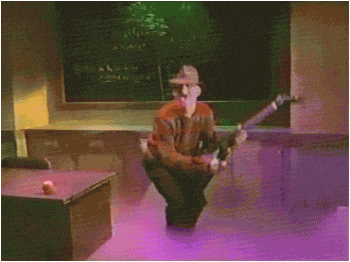 via giphy
Each week I write down some Pluses (things that went well this week) and Deltas (areas of opportunity) that I have come in contact with. I compare each week to see if some of my deltas were met, here is the progress:
Pluses:
– My hands aren't hurting as much anymore!
– My wrists are becoming more flexible
– I met my goal of playing an easier part of a song
– I am feeling more confident in playing
– I have memorized the chords and don't have trouble remembering them
Deltas:
– I still have to look at the chords I'm strumming to make sure they are correct
– still have trouble with getting practice in each day
– have trouble going beyond a small part of a song
Any tips on gaining confidence of feeling the chords as opposed to looking at them?
My plan for next week is to learn how to play the entire "Twinkle Twinkle Little Star", as this is a song that can be the basis for translating to others. My boyfriend (who has been playing guitar for years) said if I can learn that song, I can learn any basic song there is!
Wish me luck,
Alyssa